Visas and Visa Waivers
Citizens from many countries (including Australia, USA, Canada, UK, Japan, Malaysia, Singapore ... full list) do not need a visa to visit New Zealand and can simply qualify for the Visa Waiver Visitor Visa on arrival. However, Visa requirements are different according to each country—please check the above list.
Visitors to New Zealand must hold a passport that is valid for at least three months after the planned departure date from New Zealand, or one month past the date you intend to leave if the government issuing your passport has consular representation in New Zealand.
Advice from NZ Immigration is:
The overseas conference participants can come to New Zealand on a visitor visa to attend the conference. For visa waiver countries they will simply be granted a visitor visa on arrival. For visa required countries they will need to apply for a visitor visa before coming. To apply they use the standard visitor visa form, and when asked for the purpose of their visit they should indicate that they are coming here to attend a conference. If they are applying online they need to indicate they are applying for a General Visitor Visa and then in the "What is the purpose of your visit to New Zealand" question they need to select the conference/convention option.
The relevant options in the online application process are the following (screenshot):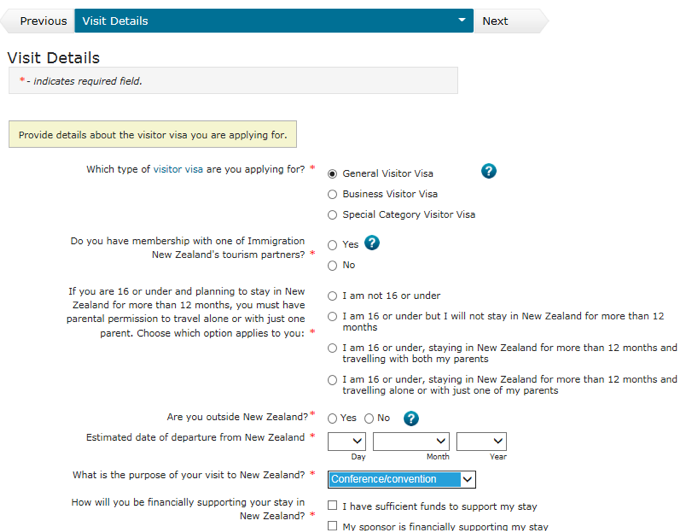 In general, conference delegates applying for a visa to attend an event or conference need to allow a minimum 30 days lead in time to apply at their local branch.
Invitation Letter for Visa Application
If you need an Invitation Letter to apply for a visa to attend the Conference, please send the following information to debs2018@waikato.ac.nz with subject "DEBS2018: Invitation Letter for visa application" and the following information:
Your name as it appears in your passport
Your position
Your affiliation/organisation
Your postal address (incl. your affiliation/organisation)
Your registration email address
Registration ID (the invitation letter for visa application will only be issued to registered participant)
The letter will be sent to you by email in PDF format within 7 working days after receiving the request with sufficient information. If a printed copy is required, please specify your address to receive the letter. Please note that Letter of Invitation will only be sent to participants who have registered and paid for the Conference. If participants withdraw from the conference after the issue of Letter of Invitation, the respective consulate may be notified of the withdrawal accordingly.